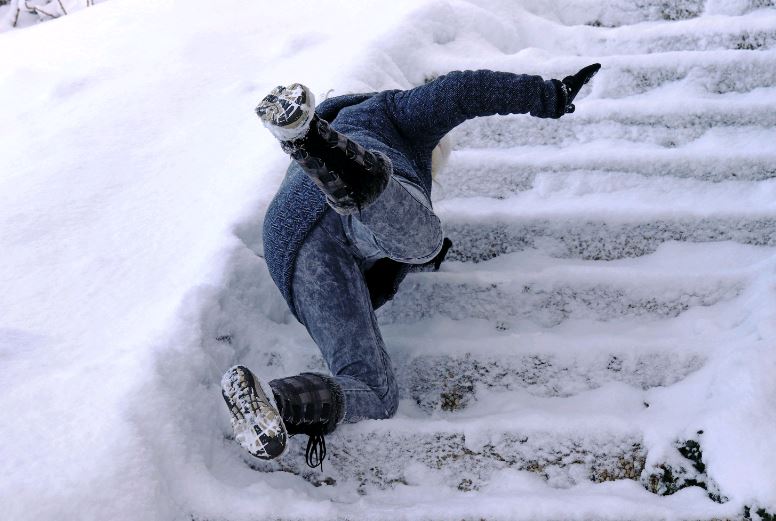 SLIPS, TRIPS & FALLS… OH MY!
Winter weather can pose serious problems for business owners, specifically when it comes to workers' compensation claims. While injuries can take place any time of year, there are particular risks that come with freezing temperatures, snow, wind and ice. So how can you keep your company and employees safe in the coming months?
SLIPS AND FALLS
A harsh winter can bring ice to your parking lots, sidewalks and entrances. With ice comes an uptick in injuries resulting from slipping and falling, and consequentially workers' compensation claims. You can't change the weather, of course, but you can combat its consequences!
MINIMIZE THE PROBLEM
Make sure you have an effective and safe snow removal plan in place. The specific nature and size of the area impacts the method, but there are many ways to make work areas safer by removing the hazards of snow and ice:
Contract with a snow-plowing company to have parking lots removed of snow and salt laid to prevent layers of ice from forming.
Use a snow-blower for smaller areas or sidewalks.
Old fashioned snow shoveling can work best for some entrances and walkways.
Make sure that railings, handles and similar structures are also salted if possible, as they will aid in preventing slips.
Whether the maintenance is performed by employees or a contractor, ensure that the best safety methods are used! You would hate to have a workers' compensation claim arise from trying to prevent one to begin with!
EMPLOY SAFETY MECHANISMS
It's nearly impossible to entirely eliminate the existence of snow and ice and the risks they bring. However, there are means to help prevent injuries that may arise:
Use safety mats at the entrances of your buildings, especially if there are uncarpeted floors upon entry that could get wet and slippery.
Encourage or require the use of non-slip shoes with better traction in areas prone to getting slick in the winter months.
Reroute employees to a safer walkway if there are areas (like outdoor steps) that get particularly icy by blocking off that area entirely.
Make sure that all lots, entryways and walkways are well-lit.
Place signs with warnings of frozen temperatures and the potential for ice outside, as well as wet floor signs inside entrances.
Wipe up melted snow and ice from any hard walking surfaces immediately.
MOTOR VEHICLE ACCIDENTS
Keeping your on-site employees safe is one thing, but what can you do about your employees who are on the road? With winter also comes a rise in vehicular accidents. Icy roads, piles of snow and poor visibility are all hazards of winter weather that can make it unsafe for both drivers and pedestrians.   There's no option of removing snow, ice or certainly wind when your employees are off-site. But you can help prevent injuries by employing inclement weather policies and offering related training.  Of course, any employed drivers should always be using best practices when driving any time of year, but especially in the winter:
Allow extra time for drivers so they are able to drive slowly and safely without fear of any repercussions for being tardy.
Provide necessary tools for drivers to clear their vehicles of snow, especially from the hood, roof, windshield and rear windows.
Employees should remove ice and snow from shoes before driving to prevent slippery pedals.
Have a plan in place in case your employee were to get stranded, so they know what to do and who to call if there's such an emergency.
Carefully consider if it's safest to cancel any on-the-road shifts based on the weather.
SAVING YOUR BOTTOM LINE
Of course, keeping your valuable workforce safe and protected is a priority of any respectable business owner. Not only does it save your employees from requiring emergency medical attention, but it also saves your bottom line. When employees are injured, they are more likely to miss work, which can be costly. Not only the workers' compensation claim itself, but also time off, can negatively impact a company's cash flow. With an employee out, your company may sacrifice productivity or you may be forced to pay overtime to other workers who have to make up the difference.
We can help you in understanding safety and risk management strategies to help plan for and prevent workers' compensation claims. Contact us to start the conversation, so you can rest better this wintry season.